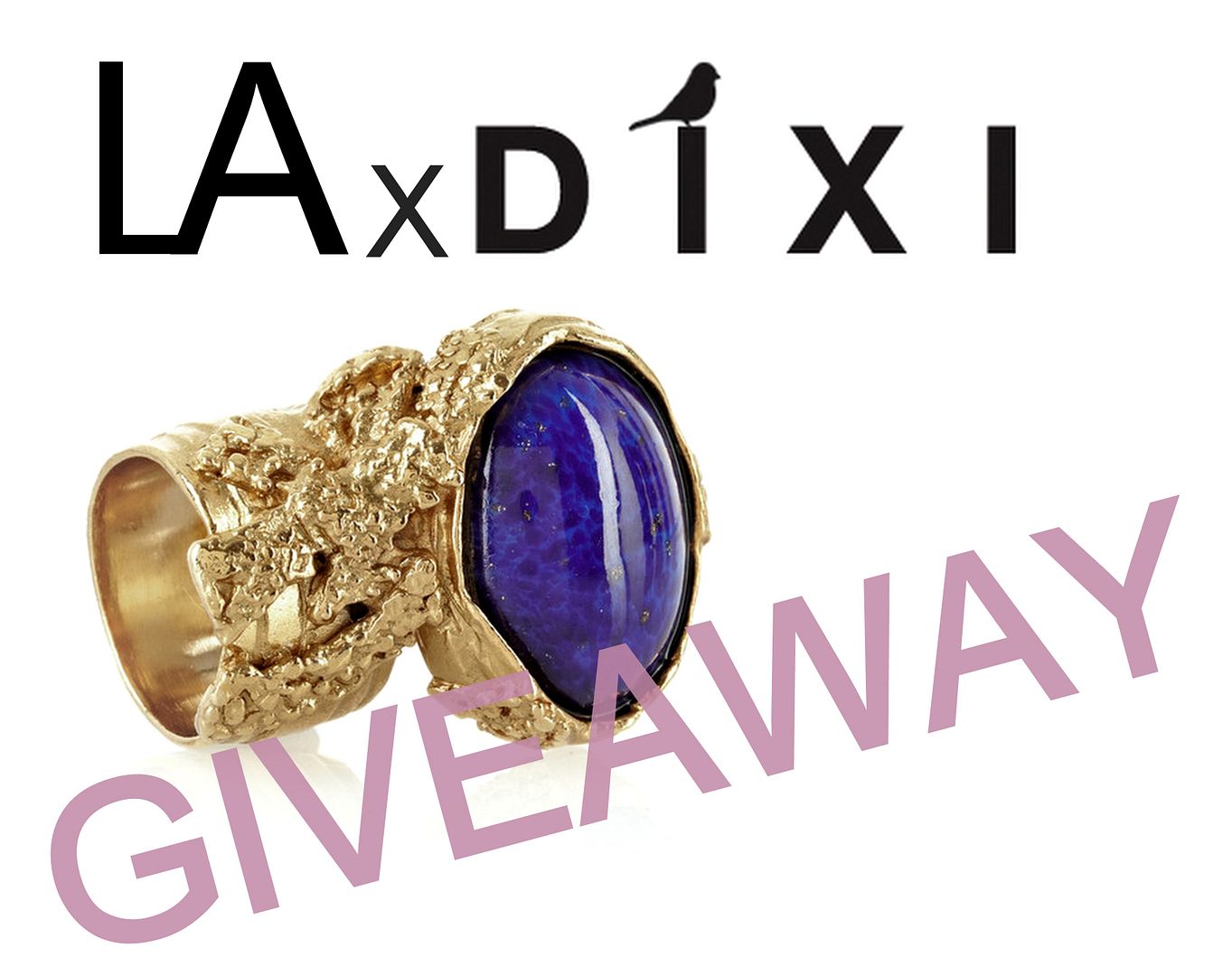 Dixi asked me to be part of the giveaway, I mean THE giveaway, they're giving away the genuine YSL Arty Ring (size US 7, worth in 150€ which is out of stock in every size), isn't a great way to celebrate the (now, more than) 1000 followers? Sure all of you are craving for one of these, and if you have already one, sure you are craving for a new one, you can't never got enough of YSL!
I told you about Dixi before, but for all those who didn't visit yet, you must know that it's an online store with vintage and modern stuff. A little boutique with unique pieces, where I get lost everytime I visit it. And something very importand (apart from the fantastic prices) they ship worldwide.
Ah! Enjoy a discount of £10 using the code:
LABLOGMEETSDIXI
So... the RULES:
2. Follow the Dixi Blog if you already arent!
4. Then just leave a comment (on this post) with your name, the two items you have chosen, and form of contact.
The competition is open to WORLDWIDE residents. You may increase your chances of winning by visiting the Dixi Facebook Page to see the other entrant points! All entrants from all entry points will be gathered together and ONE winner will be picked at random using randomnumber.org. Please ensure you leave a current contact email as this is how the winner will be notified. The competition runs from 29th May to Midnight 26th June [GMT].
Good luck!
Dixi
me ofreció formar parte de su concurso, quiero decir de EL concurso, están sorteando el Arty Ring de YSL (talla US 7, valorado en 150€ y agotado en todas las medidas), no es una manera estupenda de celebrar los (ahora ya más de) 1000 seguidores? Estoy segura de que todas/os os morís por uno de estos, y para las/os que ya lo teneis, seguro que os morís por uno más, nunca se tienen suficientes YSL!
Ya os hablé de
Dixi
antes, pero por si acaso queda alguien que no lo conoce, debería saber que es una tienda online que mezcla lo vintage con lo moderno. Una mini boutique con piezas únicas en la que yo, personalmente, me pierdo cada vez que la visito. Y otra cosa, bastante importante sobre todo aquí en España (aparte de los fantásticos precios que tienen) es que envía a todo el mundo.
Ah! Disfrutad de un descuento de £10 utilizando el código:
LABLOGMEETSDIXI

Bueno... aquí están las REGLAS:
2. Seguir el blog de
Dixi
4. Dejar un comentario (en este post) con vuestro nombre, las prendas que hayais escogido y una forma de contacto.
El concurso es INTERNACIONAL. Podeis incrementar vuestras posibilidades de ganar visitando el
facebook de Dixi
. En total se sorteará un anillo y el ganador será escogido mediante
randomnumber.org
. Aseguraos de dejar vuestro mail para poder contactar en caso de ganar. La competición finaliza el 26 de Junio a medianoche [GMT].
Buena suerte!