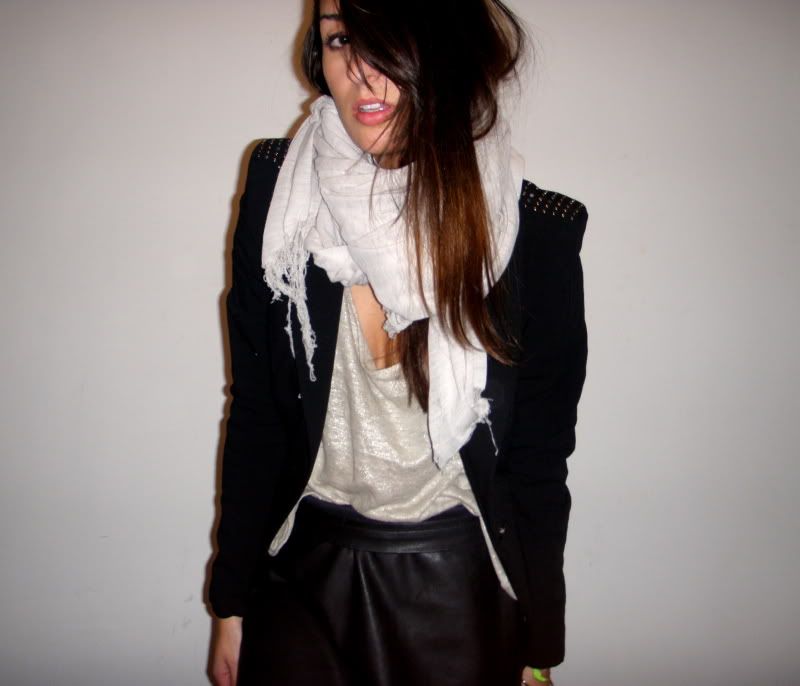 What made you decide to start a blog and why?
Qué te hizo querer empezar un blog y por qué?
Maybe this sounds clichè… I used to get inspired by the blogs, for me are like a huge magazine that shows new and fresh stuff every minute, it's the biggest inspiration ever! So I thought, better said… A encouraged me, that if I get inspired with all these girls, maybe someone could get inspired by me. Something that started like a game, right now it's like crack!
Esto va a sonar a clichè… solía visitar cientos de blogs, me inspiraban muchisimo, para mi es como una revista gigantesca que cada minuto saca nuevas cosas, es la mayor fuente de inspiración del mundo! Así que pensé, mejor dicho… A me animó, que si todas esa gente me servía de inspiración, podría ser que yo inspirase a alguien también. Algo que empezó como un juego, ahora mismo es como una droga!
Since you start blogging, what did you learn?
Desde que empezaste el blog hasta ahora, qué has aprendido? Con qué te quedas?
The most important for me is the people, all of you. It's awesome talk with people from other countries and find that you have a lot of things in common, I'm a fashion obsessed, I'm always talking about fashion (ask to my boyfriend…) so this is a great teraphy, here I've got the best fashion-friends! Ah! And I learning a lot about photography :p
Lo más importante es la gente, todos vosotros. Es increíble hablar con personas de otros países y encontrar que teneis un montón de cosas en común, soy una obsesa de la moda, siempre estoy hablando de lo mismo (preguntadle a mi novio…) así que esto es una gran terapia, aquí tengo a los mejores fashion-amigos!
Ah! Y estoy aprendiendo un montón de fotografía :p
What's your favourite blogger? And Which one inspires you the most?
Cual es tu blogger favorita? Y cual te inspira más?
Impossible choose only one, you can take a look to the blogroll in the sidebar and see a few of them. The biggest source of inspiration are the 'normal girls' I mean, not the most famous and here I must say:
Cucu
,
Cindy
and
Merve
, for example.
Imposible escoger sólo una, si echais un vistazo al blogroll de al lado os hareis una idea. Las que más me inspiran son las chicas más 'normales', es decir, no necesariamente las más famosas y aquí tengo que nombrar a: Cucu, Cindy and Merve, por ejemplo.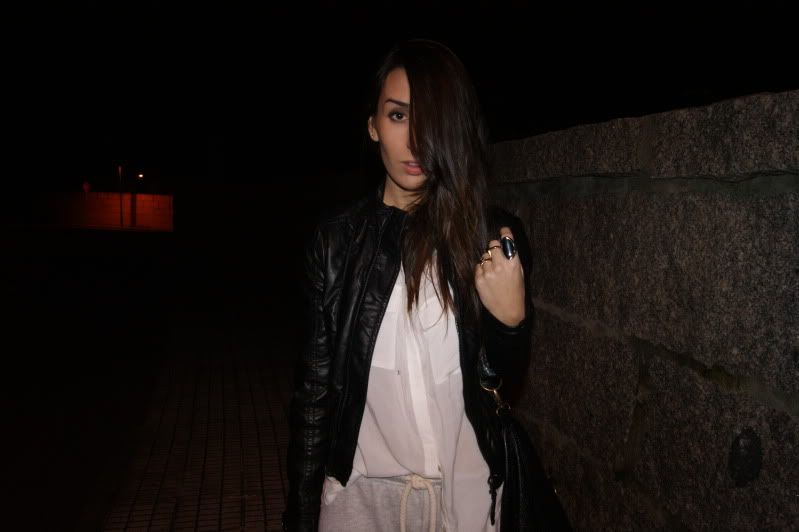 Why do you often cover your face?
Por qué sueles cubrirte la cara?
haha I've got an explanation for that! Most of my photos are taken during the night or inside home so the flash is necessary, and when you use the flash your face looks more white than normally and your eyes closed, you look ridiculous… (at least me!) so playing with the hair and don't look directly to the camera is a solution ;)
jaja tengo una explicación para esto! La mayoría de mis fotos son sacadas a la noche o en casa asi que necesito usar el flash, y cuando lo utilizo mi cara sale más blanca de lo normal y los ojos medios cerrados, sales ridícula… (al menos yo!) así que jugar con el pelo y no mirar directamente al objetivo es una solución ;)
Why do you start writting in english?
Por qué empiezas escribiendo en inglés?
I don't know… no reason.
No lo sé… no hay razón alguna.
Do you get recognized on the street by followers?
Algún seguidor te reconoció por la calle?
Nobody stopped me in the middle of the street, but three girls told me they saw me Shopping in Vigo, it's funny! :)
Nadie me paró en medio de la calle, pero tres chicas me dijeron que me habían visto de compras por Vigo, es gracioso! :)


What camera do you use?
Qué camara usas?
Sony alpha 390, I'm so happy with it, but I'm thinking about get a new len… any suggestion?
Sony alpha 390, estoy muy contenta con ella, pero quiero cogerle una nueva lente… sugerencias?
Where do you take your photos out from home?
Donde sacas las fotos cuando no estás en casa?
I like pics in weird places, like places with machines, abandoned or a simple wall. Sometimes my patient boyfriend has to drive miles till find the perfect one…
Anyway, I feel more comfortable in a place where nobody look at you, I'm so shy!
Me gustan las fotos en lugares raros, como talleres o sitios abandonados, o una simple pared. A veces obligo a mi paciente novio a conducir kilómetros hasta dar con el sitio adecuado… De todas formas, me siento mucho más cómoda donde nadie me está mirando, soy muy tímida!

Who is your photographer?
Quien es tu fotógrafo?
Only A, sometimes me.
Sólo A, a veces yo misma.


Do you usually spend a lot of money shopping?
Sueles gastar mucho de compras?
It depends… sometimes I spend really a lot and in other ocassions only 5 euros.
Depende… a veces gasto un montón y otras veces sólo 5 euros.
Could you recommend us some good online stores?
Puedes recomendarnos algunas buenas tiendas online?
Of course,
Asos.com
(obviously),
TopShop.com
,
ShopAkira.com
,
SteveMadden.com
,
Solestruck.com
,
YesStyle.com
,
Ydeltuyt.com
,
ShopLaDama.com
,
My-Wardrobe.com
,
Shopbop.com
,
MissSelfridge.com
,
ShopFatal.com
, and I don't remember more :)

About your Jewels, where do you usually buy it? Do you spend many money in jewelry?
Donde sueles comprar las joyas? Sueles gastar mucho?
Lot of my jewels are from flea markets, then I use to buy in Asos and similar stores, junk jewelry is not expensive, so I don't spend much money. Anyway, I know how important is a good jewel to cheers up an outfit, for this reason I've got in mind get any special item, I mean… Pamela Love's, Dominic Jones or Ann-Sofie Back.
La mayoría de mis anillos y pulseras son de mercadillos, también suelo comprar en Asos y similares, toda esta 'chatarrada' no es cara, así que no gasto mucho. De todas formas, sé lo importante que es una buena joya para dar un toque, por esta razón tengo en mente hacerme con alguna especial, véase… Pamela Love's, Dominic Jones o Ann-Sofie Back.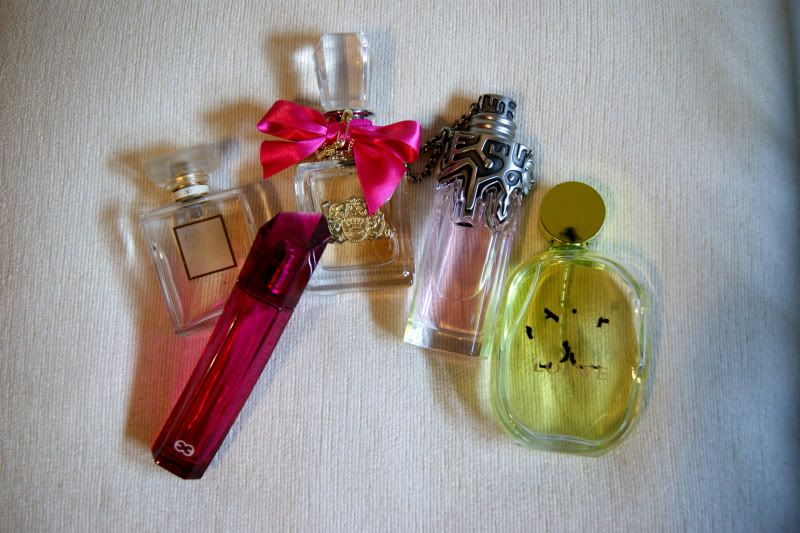 What's your favourite parfum? Which one do you use?
Cual es tu perfume preferido? Cual usas?
I've got ten different perfumes… it depends of the day I wear one or another. Current favourites are Viva La Juicy, Aire Loco and Womanity, and these two for special moments, Coco Mademoiselle and Escada Magnestism.
Tengo unos diez perfumes diferentes… dependiendo del día llevo uno u otro. Mis preferidos ahora mismo son Viva La Juicy, Aire Loco y Womanity, y estos otros dos más especiales, Coco Mademoiselle y Escada Magnetism.

How much money do you spend in make up?
Cuanto gastas en maquillaje?
buf... no idea, I'm not a big fan of makeup, not because I don't like it, because I don't know much about it, thanks Heaven I've got my little sister who is the makeup artist of the family. So I usually buy always the same... except some eyeliner or lipstick.
buf... ni idea, no soy muy fan del maquillaje, no porque no me guste, sino porque no tengo mucha idea, gracias a Dios tengo a mi hermana que es la artista de la familia. Así que no suelo comprar siempre lo mismo... excepto algún eyeliner o barra de labios.

I love you hair, how do you treat it?
Me gusta tu pelo, como lo cuidas?
Thanks, but I don't spend much time treating my hair... all I do is use a good shampoo and a hair conditioner, and sometimes heat protector and any mask.
Gracias, pero no le dedico mucho tiempo... todo lo que hago es usar un buen champú y acondicionador, y a veces un protector de calor y alguna mascarilla.



How many pairs of shoes do you have?
Cuantos pares de zapatos tienes?
I don't know… that means I've got too much and I use to wear always the same. I'm thinking about open an online shop to sell of the shoes I don't usually wear.
No lo sé… lo que significa que tengo demasiados y que siempre me pongo los mismos. Estoy pensando en abrir una tienda online para deshacerme de los que no suelo poner.

Did you ever fall down in the middle of the street because of your heels?
Alguna vez te caiste en la calle por llevar tacones?
Of course... heels sometimes give you embarassing moments... :s
Claro... los tacones a veces crean situaciones muy embarazosas... :s
Do you wear heels during all the day or only for the photos?
Llevas tacones todo el día o solo para las fotos?
24 hours, 7 days per week, 365 days per year always in heels ok… except at home and some days off. I'm more comfortable in heels than in some trainers or flats.
24 horas, 7 días a la semana, 365 días al año siempre en tacones ok… excepto cuando estoy por casa y algún día de relax. Estoy más cómoda en tacones que con algunas zapatillas o bailarinas.
Your basics?
Tus básicos?
Jeans or leather pants, t-shirt, black boots and leather jacket or faux fur coat.
Vaqueros o pantalones de cuero, camiseta, botas negras y cazadora de cuero o peludo.
Why do you love Zara so much?
Por qué te gusta Zara tanto?
In my town the biggest store is Zara and I have worn Zara since I was born… they have good quality and prices, so for these reasons I buy a lot in Zara.
Of course we have more shops, like Benetton, Mango or Lacoste, also I live between two of the biggest towns of Galicia so I usually go out from here to shopping; but the best stuff I find it in Zeta…
Donde vivo la tienda más grande es la de Zara, he vestido Zara desde que nací… tienen buena calidad y precios, por estas razones compro tanto en Zara.
Claro que tenemos más tiendas, como Benetton, Mango o Lacoste, además vivo entre dos de las ciudades más grandes de Galicia así que suelo salir de aquí para ir de compras; pero la verdad es las mejores cosas las encuentro en Zeta…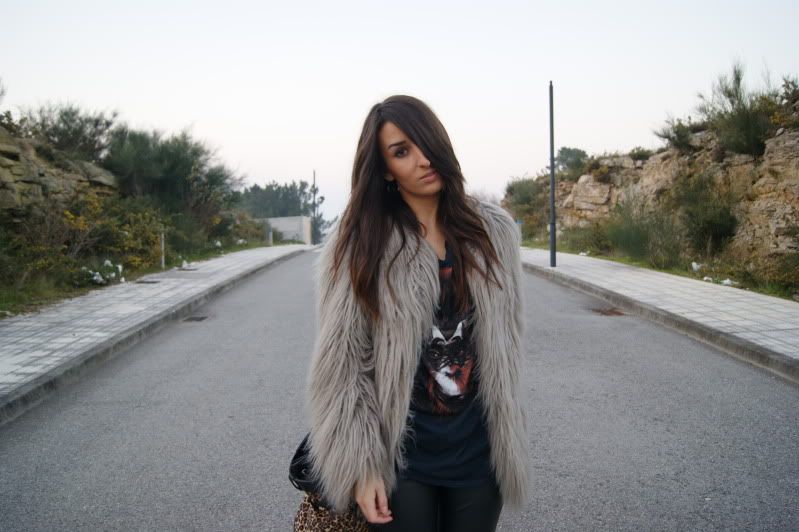 If you could pick your top 5 most prized ítems of clothing/accesories that you own, what would they be?
Si tuvieras que escoger las 5 prendas/accesorios que más aprecias, cuales serían?
In number one: leather fringe bag from Zara
Two: Swarovsky necklace and old crucifix from my dad (these count as one, because they go always together)
Three: my old leather jacket
Four: two silk scarfs from my grandma
Five: my shoes… sorry, I can't choose only one!
En el numero uno está: bolso de flecos de Zara
Dos: colgante de Swarovsky y un viejo crucifijo de mi padre (cuentan como uno ya que siempre van juntos)
Tres: mi vieja chupa
Cuatro: dos pañuelos de seda de mi abuela
Cinco: mis zapatos… lo siento, no puedo escoger sólo uno!
What is your favourite way for a man to dress?
Cual es el estilo de vestir que más te gusta en un chico?
Good question! Something like a punky dandy… I mean, blazer plus ripped jeans, heavy tees with moccasins, wool jackets with pants suit, the ying and the yang, casual but fomal…
Buena pregunta! Algo como un dandy punky… es decir, blazer con vaqueros raídos, camisetas heavy con mocasín, cardigan y traje, el ying y el yang, casual pero formal…

Do you go shopping for your boyfriend or does he do it alone?
Compras para tu novio o lo hace el sólo?
We use to go shopping together, I like listening his opinion, and he likes mine, we make a great shopping team.
Solemos comprar juntos, me gusta oir su opinión y a él la mia, hacemos un buen equipo derrochador.
...and that's all! Hope you had liked it!